Honoring Mexican-American Heritage One Vintage-Inspired Jewel At A Time
Being Mexican-American is a unique experience for everyone, but universally there is a love for embracing both cultures.
Kaleidoscopes And Polka Dots creates meaningful handmade vintage-inspired jewelry and accessories that celebrate Mexican-American heritage.
I hope you fall in love with one of my many vintage-inspired jewels.
Shop Day Of The Dead Jewelry
Whether you're attending lively Dia De Los Muertos festivities, or simply love the spirit of the holiday, you're bound to find a new favorite sugar skull jewel.
Meaningful jewelry - a priceless treasure
Meaningful handmade vintage-inspired jewelry teaches us about: 
a different culture
its previous owner
a historical figure, celebrity, or event
Learning about different facets of our world and its history through priceless mementos is beautifully enriching.
It allows us to better understand the world around us. 
Kaleidoscopes And Polka Dots strives to honor the beauty of both Mexican and American culture and history: 
because those of us with mixed heritage are growing monumentally over time.
because it's important to remember and honor where we've come from, our history, and our traditions.
because it's important to share the beauty of our heritage with our loved ones - especially if theirs is different than ours. 
Shop Sugar Skull Jewelry
Slowly, we've all become one...
Now more than ever cultural lines are blurred.
This is largely due to our global embrace of social media where we share all about our favorite things – from our favorite fashion to our favorite foods. 
While a lot of good has resulted in our embrace of social media, it has led to cultural globalization.
Britannica notes:
And according to Britannica, culture is defined as:
To me, this "standardization of cultural expression" is most evident in our modern fashions. 
Generally speaking, when browsing social media, everyone across the world appears very similar in how they dress and accessorize.
This makes sense given our interconnectedness and global embrace; however, we've slowly let go of our heritage.
Hispanic Identity Fading Away?
In December of 2017, the PEW Research Center published a report showcasing how Hispanic identity fades across generations as immigrant connections fade away.
They found that in 2015, 11% of American adults with Hispanic ancestry do not identify as Hispanic.
By the fourth generation that the percentage increased to 50%.
The study found that the further removed we are from our immigrant roots, the less likely we are to identify as Hispanic.  
While this study is specific to those of Hispanic Heritage, I think this trend is representative for many individuals of mixed heritage.
Truly, it doesn't have to be this way.
Let's embrace through a shared love and respect for art, culture, and history.
Honestly, I think it's wonderful that, as a whole, we've grown up feeling accepted and at home in a land that was once foreign to our family. 
But to completely dismiss our heritage as inconsequential is disheartening. 
Creating and sustaining a connection to our heritage is a lifelong pursuit.
And while a lot of good has evolved from social media, namely that we are better able to understand one another on a global scale, the deteriorating effect it's had on cultural traditions and fashions is not negligible.
Little by little, we've become wallflowers among our peers by resembling one another with our clothes and accessories. 
And the more distant we become from our heritage, the harder it becomes to connect to it and embrace it as an integral part of our identity. 
Garments and accessories that should feel like a touch of home instead feel foreign. 
It can feel overwhelming if we are beginning because we may not know where to start.
However, as we work towards reconnecting to our heritage and our history, we quickly realize that our everyday life is much more enriching.  
We begin to connect with others who share our love for art, culture, and history.
We establish meaningful interactions that would otherwise feel passive. 
This has been my experience. 
My Mexican-American Experience
I love sharing my culture and my love for history through crafting and wearing meaningful jewelry and accessories inspired by my Mexican-American Heritage. But I haven't always felt this way…
Hello. I'm Jessica Gonzalez-Gibson. I'm a Mexican-American woman who grew up in the suburbs of Las Vegas, Nevada, in an area where few individuals of Hispanic Heritage resided. 
I speak more "Spanglish" than Spanish and welcome corrections as I constantly strive to improve. 
Growing up with a tangential connection to a Hispanic community was challenging, but I accepted it as a norm. After all, we were in a new country, in the Land of Opportunity, and fitting in and working towards a brighter future was ingrained in me as my newfound mission. 
Over time, I developed a love for vintage Western fashion and an affinity for American history, where I came to find that the Mexican-American experience was gleaned – at best. 
The more I've learned, the more I've realized the importance of celebrating my mixed heritage in big and small ways.
I know that I am not alone in my experience.  
Many of us with a bicultural identity have similar experiences we often don't express, making us feel isolated. 
Biculturalism and Context: What Is Biculturalism, and When Is It Adaptive?
"Most generally, biculturalism represents comfort and proficiency with both one's heritage culture and the culture of the country or region in which one has settled. It is applicable not only to immigrants who have come from other countries but also to children of immigrants who – although they are born and raised in the receiving society – are likely deeply embedded in the heritage culture at home with their families."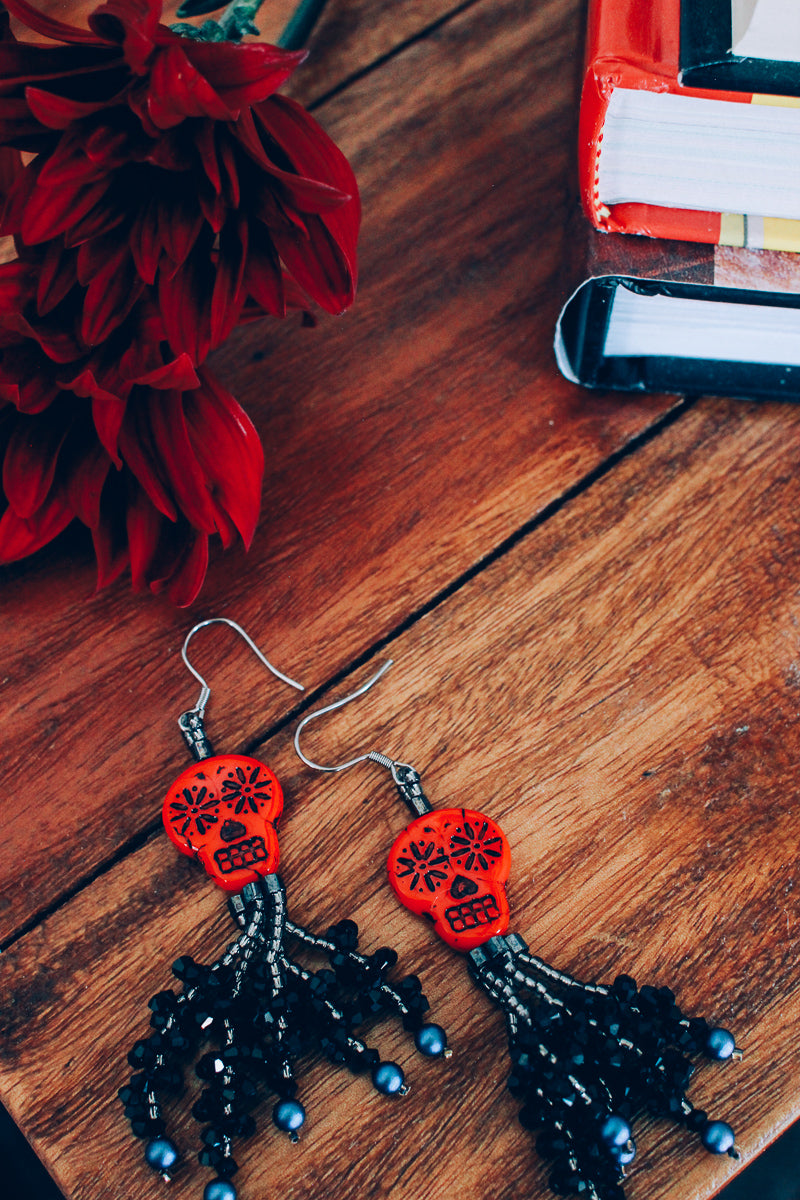 What is Handmade Vintage-Inspired Mexican-American Jewelry?
I define vintage-inspired jewelry as jewelry that is fashioned after iconic accessories using classic materials – such as pearls, brass, beads, and crystals. 
Combining these with the rich, bold colors and iconic motifs from Mexico is how I define vintage-inspired Mexican-American Jewelry. 
Inspired by my own experience and the research I've done over the years, I've decided to focus on designing handmade vintage-inspired jewelry with a Mexican-American flair. 
Through my jewelry and accessories, I hope to spark meaningful conversations surrounding Hispanic Heritage – what it entails and how it's meaningful and beautiful—while earning the wearer plenty of compliments.
I design it with love and respect; and to sow a seed of curiosity in anyone that may not readily recognize its inspiration, prompting them to ask – where's it from? 
Shop Meaningful Jewelry
What if I'm not of Hispanic Heritage?
Darling - as long as you wear it with grace and respect, add it to your cart.
And, honestly, a lot of what I make can be seen as ubiquitous across cultures.
Are you ready to shop meaningful jewelry &...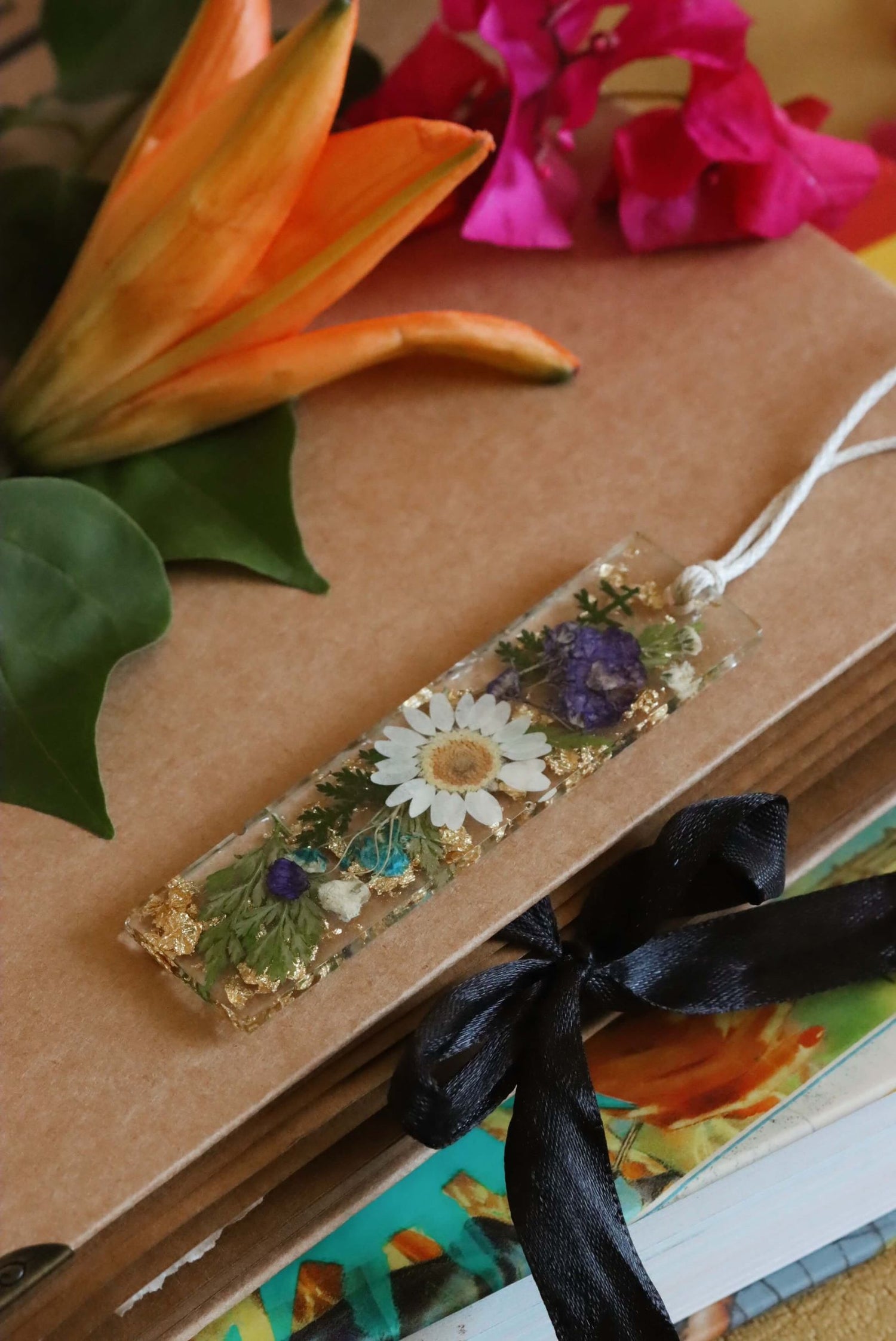 Become a storyteller
Get ready to welcome compliments and inquiries about your lovely handmade jewelry. 
Jewelry you adore both because of its beauty and because of its story. 
Shop Pressed Flower Bookmark
Create meaningful connections
Stories and art have a way of bringing us together. 
By wearing meaningful artistic jewelry, you'll likely meet like-minded souls who'll not only shower you with compliments but will also ask you about your jewelry. 
Through these brief encounters, you may find enduring connections. 
Shop Glittery Jewelry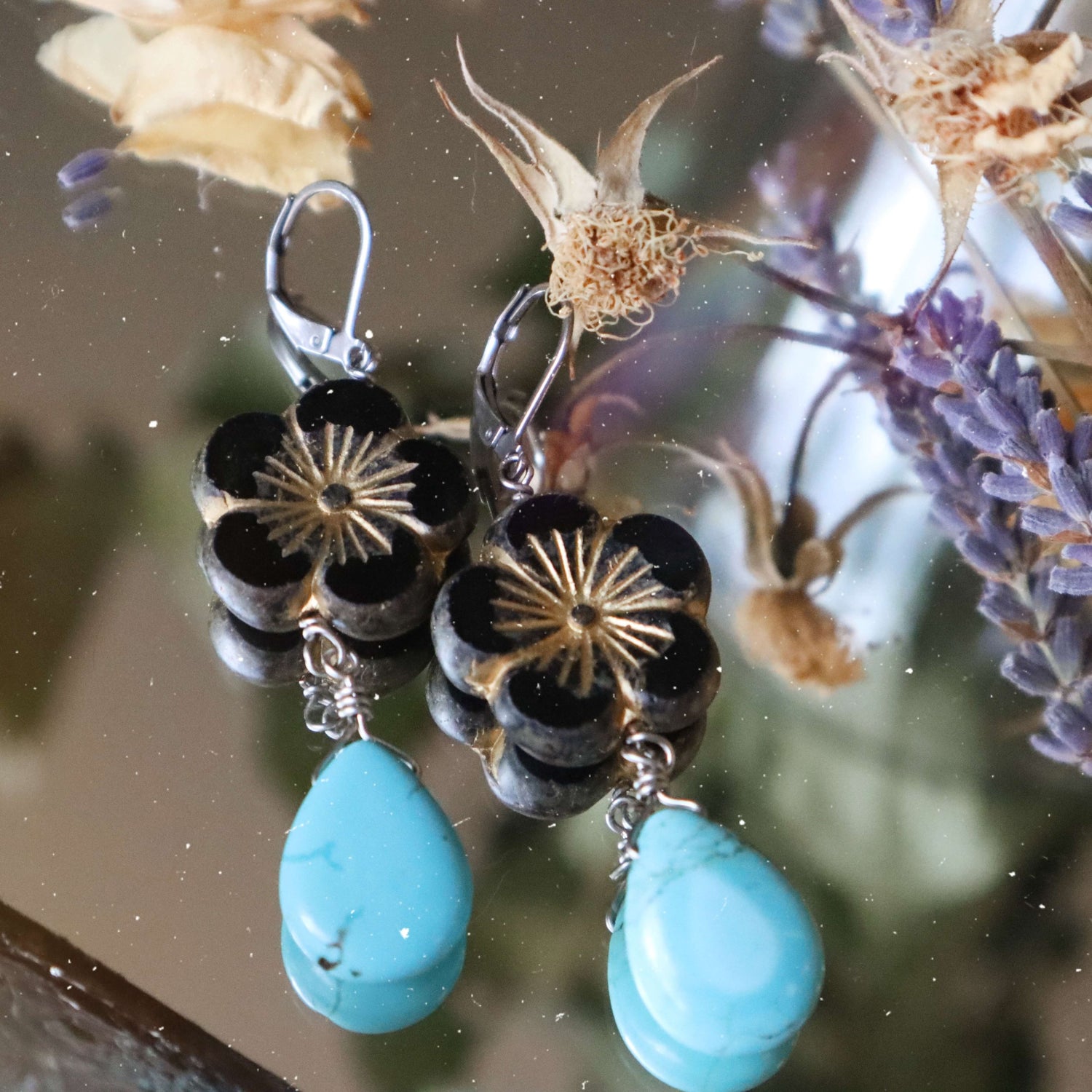 Enchanting statement jewelry
From the moment you open your gift box to the first time you wear your new jewel, you'll delight in the detail and quality of your unique statement jewelry. 
The more frequently you wear it, the stronger the connection you'll build with your versatile jewel and with its story. 
Shop Bold Flower Earrings
How will your vintage-inspired jewelry be packaged?
Securely

Shipping your meaningful jewelry securely is incredibly important to me.

Jewelry is delicate & the shipping journey is unpredictable.

That is why your package will include:

Velvet Bag
Jewelry Gift Box
Padded Envelope or Shipping Box

Velvet Bag

The small velvet bag included in your purchase isn't only a lovely touch, it's a great way to store your jewelry.

Storing your jewelry within this bag helps minimize oxidation.

Jewelry Gift Box

The gift box isn't just pretty packaging; it protects your investment during its sipping journey because a lot can happen between when I package your jewels and when they arrive at your doorstep. 
With you're purchase, you'll also receive instant access to the Kaleidoscope Chronicle.
The Kaleidoscope Chronicle is the best way to stay informed about subscriber-exclusive discounts, upcoming events, new collections, giveaways, sales, and more!
Not interested in another email from a seller?
I totally understand, hence you can unsubscribe at any time.
You can do so by scrolling to the bottom of any of my emails and clicking the "unsubscribe" hyperlink. 
I don't recommend it if you're truly interested in my handmade vintage-inspired Mexican American jewelry. 
Also, you'll be missing out on subscriber-exclusive sales, discounts, and giveaways not available to the public. 
You're purchase makes a difference -
To my family

Truly, thank you for believing in my work & helping me support my family.

To The Animal Foundation

The Animal Foundation is based out of Las Vegas, Nevada.

It saves as many rescue animals as possible and provides affordable veterinary care to the community. 

It's where I've gone to adopt my pets.

If you follow me on Instagram, than you've seen me share about their initiatives.  

Learn more about The Animal Foundation

The Wounded Warrior Project

As a former U.S. Army Reservist, it's important to me to honor and support those who've served and lost so much while protecting our country. 

The Wounded Warrior Project helps veterans in need find the care they deserve. 

Their services include job placement, physical therapy, counseling, and more. 

Learn More About The WWP
Please note that I'm not affiliated with these organizations.
I love their work and mission.
That's why 10% of every purchase is set aside and donated divided between them.
Celebrate Latinx Stories & Join CARAMBA! Book Club
CARAMBA! Book Club is open to anyone interested in embracing Latinx stories respectfully. 
Stories inspire my work. 
They inspire my imagination.
They cultivate my love for art and history.
They are what motivated me to open my shop. 
Initially, Kaleidoscopes And Polka Dots was a beaded bookmark shop. Now it's a handmade vintage-inspired jewelry shop with a  focus on Mexican-American designs. 
I'd love to continually celebrate and honor Hispanic Heritage with fellow book lovers by exploring stories from different genres, written across different time periods and from different perspectives. 
By joining CARAMBA! Book Club, you not only become part of a superb community of readers but you also get access to free bookish downloads. These make great postcards, bookmarks, and stickers – just to name a few ideas. 
Join Our Book Club!
Would you love to save 20% on your order?
Sign up for The Kaleidoscope Chronicle – my newsletter –and do so before making your purchase
As soon as you do so, you'll instantly receive a 20% off discount code. 
The Kaleidoscope Chronicle is a weekly newsletter where I share: 
Shop Updates
Exclusive Giveaways
Fabulous Surprise Discounts
Free Downloads
Plans for future handmade vintage-inspired jewelry designs
What's not to love? 
Frequently Asked Questions
What's included in every purchase?
How quickly will you ship my order?

Most of my products are ready to ship! 

I generally need 2-3 business days to package and ship your purchase. 

Once it's ready to ship, you'll receive an email with your tracking number. 
Do you offer free shipping?

Absolutely!

Orders over $75 (USD) are instantly upgraded to free shipping. 

NO CODE IS REQUIRED! 
How do I get a refund?

Email me within 90 days of your purchase at sincerely@kaleidoscopesandpolkadots.com. 

Include a few details about why you'd like a refund. 

Within 48 hours of receipt, I'll respond to your email with an enclosed return label. 

As soon as I receive a notification from USPS that your package is on its way back, I'll issue you a refund and send you a note to keep you updated.
Do you take custom orders?
Do you ship internationally?

Certainly!

If you sign up for The Kaleidoscope Chronicle – my free newsletter – you are instantly emailed a 20% off discount code. 

This code never expires. 
Do you really make all your jewelry?
Could I buy something you previously sold that's no longer listed?

Honestly, I'm not sure. 

It depends on my schedule and resources. 

And if I can't make it exactly as previously listed, we might be able to work on creating something very similar.

Regardless, it doesn't hurt to ask. 

Email me at sincerely@kalidoscopesandpolkadots.com with as much detail as you may have, and I'll see if I can make it happen. 

These requests may take me longer than my average shipping time of 2-3 business days, and this is in addition to the 48 hours I need to respond to your email. 

If this timeline works for you, email me at sincerely@kaleidoscopesandpolkadots.com.
What if I change my mind? Or what if the intended recipient doesn't like their gift?

Return it!

You can do so by emailing me at sincerely@kaleidoscopesandpolkadots.com within 90 days of your purchase for a full refund.

I'll respond within 48 hrs.

I just ask that you share a few details for why you weren't satisfied with your purchase.

More than anything, I want you to love your purchase and if your purchase isn't want you expected, let me fix it.  
How do I take care of my jewelry and clean my jewelry without damaging it?

One of the best ways to take care of your jewelry is by storing it in airtight containers to reduce exposure to pollutants, humidity, etc.

These elements are known to tarnish jewelry.

The small jewelry pouch included within your purchase, is an a tool I hope you use long term.

It makes a lovely storage solution and it helps minimize the exposure. 
How do I clean metal jewelry?

If you need to clean off tarnish or debris from your metal jewelry, wipe it clean with a soft cloth, soap, and warm water. 

Alternatively you could take it to a jeweler to have it professionally cleaned. 
How do I clean beaded jewelry?

Beaded work should not be cleaned with soap.

At most, lightly clean your jewelry with a soft damp cloth. 

If you need to take this measure, please be very careful when cleaning your beaded jewelry as it could cause serious damage to your jewel. 

In general, you should try to avoid touching beadwork as the oils on your hands may affect the coloring of the seed beads within the design. 

Storing your beaded jewelry in an air-tight container also helps keep your jewelry looking its best. 
Ready to place your order of handmade vintage-inspired jewelry?
I'm so excited for you! 
Once you place your order, you'll receive an order confirmation via email. 
Given that most of my products are ready to ship, I just need 2-3 days to package and ship your purchase. 
After the shipping label for your purchase is ready, you'll receive another email that includes the tracking number of your order.